Looking for a new way to show your appreciation for the Canalway Trail or maybe just an excuse to log more trail miles? The Canalway Trail Ambassador program may be a great fit for you.
Canalway Trail Ambassadors are volunteers who ride patrols on the Canalway Trail. Parks & Trails New York, in collaboration with the Canalway Trails Association New York (CTANY) and the NYS Canal Corporation, initiated the Canalway Trail Ambassador program in order to provide a "presence" on the trail and enhance the experiences of trail users. The program began in Schenectady and Albany Counties in 2008, before expanding to Monroe County. In 2015, Ambassadors began making rounds on the Old Erie Canal section of trail in Onondaga and Madison Counties.
Ambassadors logged thousands of miles on the trail in 2018, and they're gearing up for even larger impact in 2019.
Ambassadors are on the trail from spring to fall, although some extend their riding season well into the winter. The role of a Trail Ambassador is three-fold: to assist and inform trail users, monitor trail conditions, and promote courteous and safe use of the trail. Ambassadors usually wear an easily recognizable shirt or vest and carry basic supplies and PTNY's Cycling the Erie Canal guidebook. Along with their knowledge of trail sections and local amenities, Trail Ambassadors provide motivation to those embarking on an End-to-End journey on the Canalway Trail and information on how to register for the End-to-End recognition program.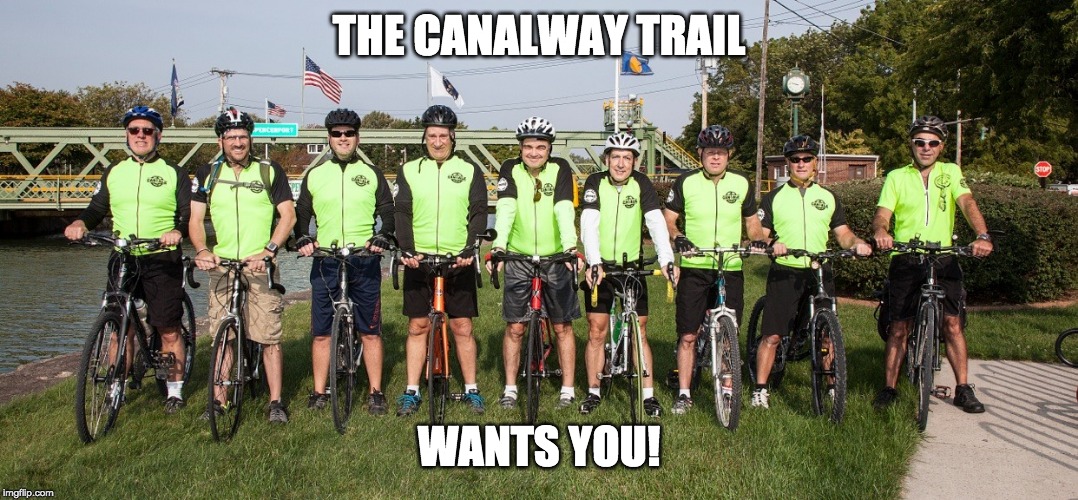 Sounds fun, right?
Contact PTNY at (518) 434-1583 to register as an Ambassador, or email canaltrail@ptny.org.